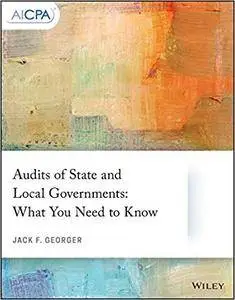 Jack F. Georger, "Audits of State and Local Governments: What You Need to Know"
English | ISBN: 1119508096 | 2018 | 272 pages | PDF | 16 MB
Do you need advice on handling audit and accounting issues common to state and local governments? Whether you are a financial statement preparer or an auditor, this CPE course provides you with critical "how-to" guidance on planning, performing, and reporting on your audit engagements, including financial reporting and the financial reporting entity, revenue and expense recognition, capital asset accounting, and the elements of net position. This course covers newly issued accounting and auditing standards, pension and OPEB standards, going concern, fair value, and Yellow Book updates.
Learning Objectives
This course will prepare you to:
Identify the latest principles of auditing and accounting for state and local governments.
Identify new GASB standards.
Review in detail auditing considerations including risk assessment, materiality, group audits, and performing and concluding the audit.
Re-examine significant accounting transactions including financial instruments; revenues and receivables; capital assets; expenses/expenditures and liabilities; net position and financial statement reconciliations.
Identify guidance for special-purpose governments like hospitals, schools district, transportation systems, colleges and universities and more.
Prepare financial statements in accordance with a special purpose framework through review of illustrative auditor's reports.