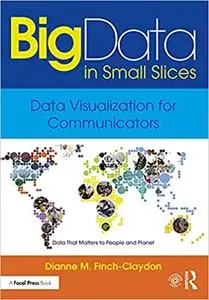 Big Data in Small Slices: Data Visualization for Communicators by Dianne M. Finch-Claydon
English | December 23, 2020 | ISBN: 1138910910, 1138910902 | 150 pages | PDF | 67 MB
This book offers an engaging and accessible introduction to data visualization for communicators, covering everything from data collection and analysis to the creation of effective data visuals.
Straying from the typical "how to visualize data" genre often written for technical audiences, Big Data in Small Slices offers those new to data gathering and visualization the opportunity to better understand data itself. Using the concept of the "data backstory," each chapter features discussions with experts, from marine scientists to pediatricians and city government officials, who produce datasets in their daily work. The reader is guided through the process of designing effective visualizations based on their data, delving into how datasets are produced and vetted, and how to assess their weaknesses and strengths, ultimately offering readers the knowledge needed to produce their own effective data visuals.
This book is an invaluable resource for anyone interested in data visualization and storytelling, from journalism and communications students to public relations professionals.
My nickname -
interes