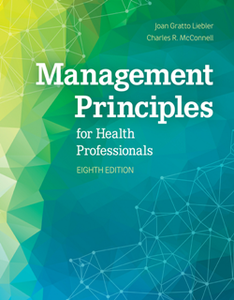 Management Principles for Health Professionals, Eighth Edition
by Joan Gratto Liebler and Charles R. McConnell
English | 2021 | ISBN: 1284183505 | 367 Pages | ePUB | 3.51 MB
Management Principles for Health Professionals is a practical guide for new or future practicing healthcare managers. The customary activities of the manager—planning, organizing, decision making, staffing, motivating, and budgeting—are succinctly defined, explained, and presented with detailed examples drawn from a variety of health care settings. Students will learn proven management concepts, techniques, models, and tools for managing individuals or teams with skill and ease. The Eighth Edition continues to present foundational principles of management in the context of contemporary health care. With timely coverage of such topics as medical cost sharing; use of robots; ER by appointment; increased use of observation units; renewed use of flextime staffing and scheduling; use of social media on the job, and more, this thoroughly updated text addresses the latest trends and issues that today's health care manager is likely to encounter.
If you want to support my blog, then you can buy a premium account through any of my files (i.e. on the download page of my book). In this case, I get a percent of sale and can continue to delight you with new books!