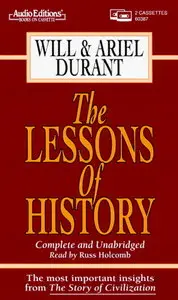 The Lessons of History By Will Durant, Ariel Durant, Russ Holcomb
Publisher: Audio Partners 1994-04 | ISBN: 0945353871 | Language: English | Audio CD in MP3 | 46 MB
What does history teach us? After a lifetime of research and reflection, the noted historians and authors share their profound and insightful interpretations of the most vital lessons history offers. To quote Will Durant, "The present is the past rolled up for action, and the past is the present unrolled for understanding."
Thanks to original uploader!


<span style="color:#009900"><u>DoWnLoAd FiLe</u></span>
<span style="color:#cc0000"><u>mirror</u></span>
<span style="color:#ff9933"><u>mirror</u></span>
<span style="color:#0033ff"><u>mirror</u></span>
>>:: NO PASSWORD ::<<
mirror
>>::..::!!!NO MIRRORS!!!::..::<<