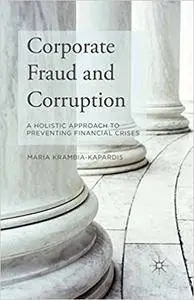 M. Krambia-Kapardis, "Corporate Fraud and Corruption: A Holistic Approach to Preventing Financial Crises"
English | 2016 | ISBN: 1349680818 | PDF | pages: 245 | 1.3 mb
Recent large-scale corporate collapses, such as Lehman Brothers, Enron, Worldcom, and Parmalat, highlight the implosion of traditional models of fraud prevention. By focusing on risk factors at the micro level, they have failed to take into account the broader context in which external auditors operate as well as the crucial importance of such factors as corruption, organizational culture, corporate social responsibility, ethical values, governance, ineffective regulation, and a lack of transparency. Corporate Fraud and Corruption engages readers by showing how evidence-based, multi-level micro and macro analysis of fraud risk and protective factors inform effective fraud prevention, in turn minimizing financial catastrophes. Krambia-Kapardis focuses on her own empirical research into the aetiology of fraud to showcase a holistic approach to fraud prevention. This book also features major case studies from the United States, the United Kingdom, and Australia.