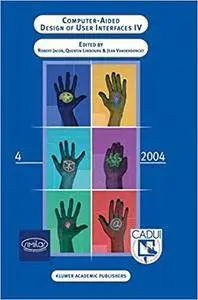 Robert J.K. Jacob, Quentin Limbourg, Jean Vanderdonckt, "Computer-Aided Design of User Interfaces IV"
2005 | pages: 384 | ISBN: 1402031459 | PDF | 17,6 mb
Computer-Aided Design of User Interfaces IV gathers the latest research of experts, research teams and leading organisations involved in computer-aided design of user interactive applications supported by software, with specific attention for platform-independent user interfaces and context-sensitive or aware applications. This includes: innovative model-based and agent-based approaches, code-generators, model editors, task animators, translators, checkers, advice-giving systems and systems for graphical and multimodal user interfaces. It also addresses User Interface Description Languages.
This books attempts to emphasize the software tool support for designing user interfaces and their underlying languages and methods, beyond traditional development environments offered by the market. It will be of interest to software development practitioners and researchers whose work involves human-computer interaction, design of user interfaces, frameworks for computer-aided design, formal and semi-formal methods, web services and multimedia systems, interactive applications, and graphical user and multi-user interfaces.
My Link