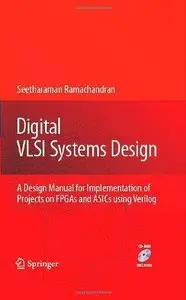 Digital VLSI Systems Design: A Design Manual for Implementation of Projects on FPGAs and ASICs Using Verilog By Seetharaman Ramachandran
2007 | 709 Pages | ISBN: 1402058284 | PDF | 13 MB
This book provides step-by-step guidance on how to design VLSI systems using Verilog. It shows the way to design systems that are device, vendor and technology independent. Coverage presents new material and theory as well as synthesis of recent work with complete Project Designs using industry standard CAD tools and FPGA boards. The reader is taken step by step through different designs, from implementing a single digital gate to a massive design consuming well over 100,000 gates. All the design codes developed in this book are Register Transfer Level (RTL) compliant and can be readily used or amended to suit new projects.