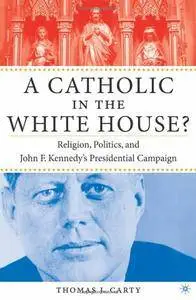 A Catholic in the White House?: Religion, Politics, and John F. Kennedy's Presidential Campaign by T. Carty
English | Sep. 17, 2004 | ISBN: 1403962529, 1403962537 | 224 Pages | PDF | 1.3 MB
According to most political and religious scholars and pundits, JFK's victory in 1960 symbolized America's evolution from a Protestant nation to a pluralist community that included Catholics as all citizens. However, if the presidential election of 1960 was indeed a turning point for American Catholics, how do we explain the failure of any Catholic - in over forty years - to repeat Kennedy's accomplishment? In this exhaustively researched study that fuses political, cultural, social and intellectual history, Thomas Carty challenges the assumption that JFK's successful campaign for the Presidency ended decades, if not centuries, of religious and political tension between American Catholics and Protestants, paving a new role for Catholics in American presidential politics.