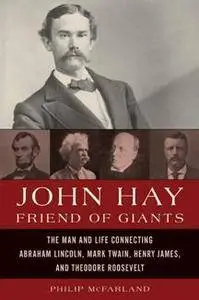 John Hay, Friend of Giants : The Man and Life Connecting
Abraham Lincoln, Mark Twain, Henry James, and Theodore Roosevelt
by Philip McFarland
English | 2017 | ISBN: 1442222816 | 383 Pages | PDF | 29 MB
Now, perhaps, only those enmeshed in 19th-century American history know his name; but when John Hay died in 1905, he was one of the most famous men in the world. And one of the most highly regarded. Abraham Lincoln's private secretary during the Civil War, thereafter as a popular poet, novelist, newspaper editor, highly esteemed historian and biographer, diplomat, businessman, and secretary of state until his death, Hay enjoyed remarkable success in public and private life. In John Hay, Friend of Giants, Philip McFarland presents both the intimate story of Hay's relationship with four prominent figures of his age and an insightful history of the United States from the 1850s to the turn of the century. Hay's life and extraordinary friendships provide a window into the politics, literature, society, and diplomacy of this remarkable era of American expansion.