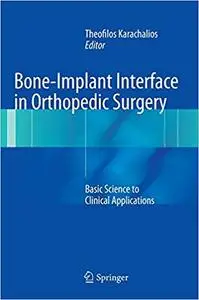 Theofilos Karachalios, "Bone-Implant Interface in Orthopedic Surgery: Basic Science to Clinical Applications"
English | ISBN: 1447154088 | 2014 | 342 pages | EPUB, PDF | 6 MB + 11 MB
Total joint arthroplasty is an effective surgical procedure for end-stage osteoarthritis of major joints with satisfactory long term clinical outcome. A large and growing number of arthroplasties are performed annually worldwide and a great number of orthopaedic surgeons are practicing arthroplasty surgery as their main surgical activity. The biological behavior of the bone-implant interface is crucial for the long term survival of the artificial joint. All factors which have a positive or negative effect on the interface are of great interest for those practicing arthroplasty surgery. Basic scientists and the industry are continuously searching for new implant fixation mechanisms and improved materials. There is an accumulation of a great amount of basic science data (both biological, material and mechanical) related to the incorporation or loosening of the bone-implant interface. However, basic science data does not always translate to satisfactory clinical application, and orthopaedic practitioners often wonder which piece of information is clinically useful. A further problem is that basic scientists often speak their own scientific language and may not fully appreciate common clinical practice needs. In this textbook the biological and mechanical mechanisms of implant incorporation and loosening will be presented. All new data concerning materials and methods for incorporation enhancement will be critically analyzed. Data useful for clinical application will be stressed. Orthopaedic Surgeons will find information which will improve their clinical practice and basic scientists will be helped to understand and appreciate clinical needs.