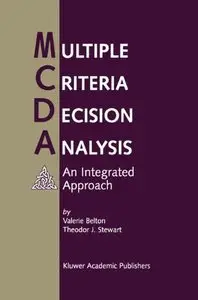 Multiple Criteria Decision Analysis: An Integrated Approach By Valerie Belton, Theodor Stewart
2002 | 372 Pages | ISBN: 1461355826 | PDF | 21 MB
The field of multiple criteria decision analysis (MCDA) - also sometimes termed multiple criteria decision aid, or multiple criteria decision making (MCDM) - has developed rapidly over the past quarter century and in the process a number of divergent schools of thought have emerged. Multiple Criteria Decision Analysis: An Integrated Approach provides a comprehensive yet widely accessible overview of the main streams of thought within MCDA. It is felt that this two-fold emphasis gives a book which will be of value to the following three groups: Practicing decision analysts or graduate students in MCDA for whom this book should serve as a state-of-the-art review, especially as regards techniques outside of their own specialization; Operational researchers or graduate students in OR/MS who wish to extend their knowledge into the tools of MCDA; Managers or management students who need to understand what MCDA can offer them.