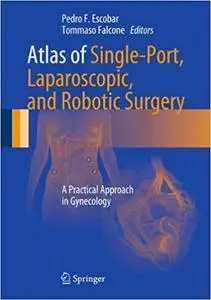 Pedro F. Escobar, "Atlas of Single-Port, Laparoscopic, and Robotic Surgery: A Practical Approach in Gynecology"
English | ISBN: 1461468396 | 2014 | 330 pages | EPUB, PDF | 12 MB + 22 MB
Minimally invasive surgery has become the standard treatment for many diseases and conditions. In the last decade, numerous studies have demonstrated that laparoscopic approaches have improved patients' quality of life if compared with standard open procedures. Atlas of Single-Port, Laparoscopic, and Robotic Surgery serves as a guide in single-port, standard laparoscopy, and robotic surgery and shows how novel techniques, such as single-port laparoscopy and robotics, have recently evolved. The atlas illustrates the unique challenges that the new single-port surgery modality presents, including instruments crowding and articulation, and the advanced laparoscopic skills required to perform these procedures, such as the ability to move and control a flexible camera. It also illustrates how to efficiently and safely utilize the robot to perform most gynecologic procedures. This exceptional resource provides students, residents, fellows, operating room personnel, and practicing gynecologic surgeons with invaluable information about instrumentation, surgical technique, port systems, and the current research and development in robotics.