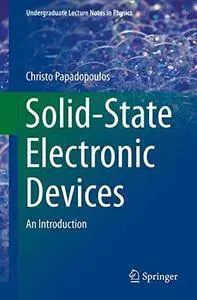 Solid-State Electronic Devices: An Introduction (Undergraduate Lecture Notes in Physics) by Christo Papadopoulos
English | 31 Dec. 2013 | ISBN: 1461488354 | 292 Pages | PDF | 10.53 MB
A modern and concise treatment of the solid state electronic devices that are fundamental to electronic systems and information technology is provided in this book. The main devices that comprise semiconductor integrated circuits are covered in a clear manner accessible to the wide range of scientific and engineering disciplines that are impacted by this technology. Catering to a wider audience is becoming increasingly important as the field of electronic materials and devices becomes more interdisciplinary, with applications in biology, chemistry and electro-mechanical devices (to name a few) becoming more prevalent. Updated and state-of-the-art advancements are included along with emerging trends in electronic devices and their applications. In addition, an appendix containing the relevant physical background will be included to assist readers from different disciplines and provide a review for those more familiar with the area. Readers of this book can expect to derive a solid foundation for understanding modern electronic devices and also be prepared for future developments and advancements in this far-reaching area of science and technology.