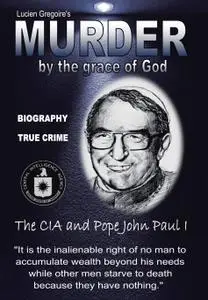 Lucien Gregoire, "Murder by the Grace of God: The CIA and Pope John Paul I"
English | ISBN: 1477299653, 1477299661 | December 18, 2012 | EPUB | 416 pages | 8.52 MB
In 1978, driven by Paul VI's encyclicals Populorum Progressio and Liberation Theology, there were two fronts on which the CIA was confronted by communism as a free democratic society, Italy and Central America. If Italy fell to communism much of Europe would surely follow. If Central America fell to communism much of Latin America would surely follow. It was in these parts of the world communism was raising its ugly head as the will of the people that was so very dangerous to the United States and its capitalistic allies. Henry Kissinger sounded the alarm, "Domination by Moscow is not the issue. Communist control of Italy and Central America is the issue. It would have terrible consequences for the United States and is the number one threat to its national security". . . . . . . . On the afternoon of March 13, 1978, fourteen men sat around a table in a sidewalk café in a mountain village in northern Italy. In casual clothes they went unnoticed though one was the reigning Pontiff and another a KPG agent and Metropolitan of the Russian Orthodox Church. Included were Italian cardinals who had been behind the rise of the Communist Party in Italy. The others were ranking cardinals of impoverished parts of the world. Together they comprised the core of the Marxist movement in the Catholic world. They left at four o'clock and the political counterpart of this clandestine gathering-Aldo Moro-reserved the table for next year. . . . On March 13, 1979, Cardinals Benelli and Felici decided not to travel to Vittorio Veneto that day. After all, all the others were dead. They, themselves-unaware of their impending doom-were, too, as good as dead.