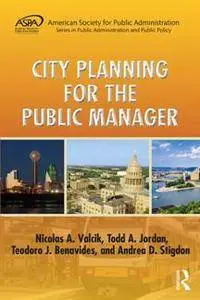 City Planning for the Public Manager
by Nicolas A. Valcik and Todd A. Jordan
English | 2017 | ISBN: 1482214563 | 281 Pages | PDF | 1.7 MB
Why should public administrators care about city planning? Is city planning not a field ruled by architects and public works personnel? Much of city planning in fact requires expertise in areas other than buildings and infrastructure, and with city planning expertise, urban administrators are empowered to make more informed decisions on matters that involve budgeting, economic development, tax revenues, public relations, and ordinances and policies that will benefit the community. City Planning for the Public Manager is designed to fill a gap in the urban administration literature, offering students and practitioners hands-on, practical advice from experts with diverse city administration experience, and demonstrating where theory and practice intersect.
Divided into three sections, the book provides an overview of the life cycle of a municipality and its services, explores city planning applications for planners on a strict budget, and walks the reader through a real-life planning research project, demonstrating how it was formulated, implemented, and analyzed to produce usable results. Topics explored include justifications for specific city services, internal and external benchmarking used for city planning, common technical tools (e.g., GIS), legal aspects of planning and zoning, environmental concerns, transportation, residential planning, business district planning, and infrastructure. City Planning for the Public Manager is required reading for students of urban administration and practicing city administrators interested in improving their careers and their communities.