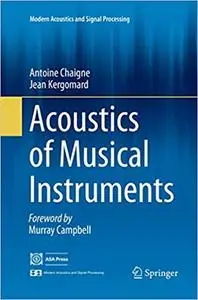 Antoine Chaigne, Jean Kergomard, "Acoustics of Musical Instruments"
English | 2016 | ISBN: 1493936778 | PDF | pages: 855 | 12.5 mb
This book, the first English-language translation of Acoustique des instruments de musique, Second Edition, presents the necessary foundations for understanding the complex physical phenomena involved in musical instruments. What is the function of the labium in a flute? Which features of an instrument allow us to make a clear audible distinction between a clarinet and a trumpet? With the help of numerous examples, these questions are addressed in detail. The authors focus in particular on the significant results obtained in the field during the last fifteen years. Their goal is to show that elementary physical models can be used with benefit for various applications in sound synthesis, instrument making, and sound recording. The book is primarily addressed to graduate students and researchers; however it could also be of interest for engineers, musicians, craftsmen, and music lovers who wish to learn about the basics of musical acoustics.