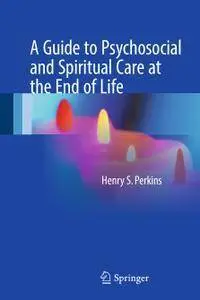 Henry S. Perkins, "A Guide to Psychosocial and Spiritual Care at the End of Life"
2016 | ISBN-10: 1493968025 | 491 pages | EPUB | 1 MB
Psychological, social, and spiritual care is as important as physical care at the end of life. Yet caregivers often feel ill-equipped to give that nonphysical care.
This book shows how to do it. The book addresses all caregivers who attend dying patients: doctors, nurses, chaplains, clergy in the pastorate, social workers, clinical psychologists, family caregivers, and others. It covers such topics as the functional and emotional trajectories of dying; the varied approaches of patients and caregivers to end-of-life decisions; culturally based beliefs about dying; the differences between depression and grief; and people's views about the right time to die, the death experience itself, and the afterlife. For each topic the book introduces core concepts and summarizes recent research about them. The book presents much of its material in readable tables for easy reference; applies the material to real-life cases; lists the main "take home" points for each chapter; and gives references for additional reading. The book helps caregivers anticipate the reactions of patients and survivors to end-of-life traumas and suggests how caregivers can respond insightfully and compassionately. At the same time the book challenges caregivers to think through their own views about death and dying. This book, therefore, is a must-read for all caregivers―professional and nonprofessional alike―who strive to give their patients comprehensive, high-quality end-of-life care.