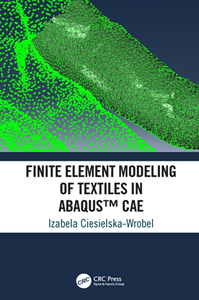 Finite Element Modeling of Textiles in Abaqus™ CAE
by Izabela Ciesielska-Wrobel
English | 2020 | ISBN: 1498753736 | 195 Pages | PDF | 16 MB
The aim of the book is to provide engineers with a practical guide to Finite Element Modelling (FEM) in Abaqus CAE software. The guide is in the form of step-by-step procedures concerning yarns, woven fabric and knitted fabrics modelling, as well as their contact with skin so that the simulation of haptic perception between textiles and skin can be provided. The specific modelling procedure will be proceeded by a theoretical background concerning mechanical characteristics of the modelled elements or phenomena. Models will be validated and discussed. In addition, virtual object tests results will be presented and compared to the outcome of the modelling process.
If you want to support my blog, then you can buy a premium account through any of my files (i.e. on the download page of my book). In this case, I get a percent of sale and can continue to delight you with new books!