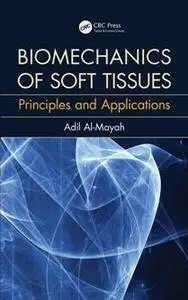 Biomechanics of Soft Tissues : Principles and Applications
by Adil Al-Mayah
English | 2018 | ISBN: 1498766226 | 188 Pages | ePUB | 7.8 MB
This book addresses the need of practitioners and researchers in the biomedical sciences to better understand the principles of biomechanics of soft tissue. This book will thoroughly incorporate a number of applications and examples of biomechanics both from an engineering and clinical standpoint. It starts with the fundamental of soft tissues biology and structures. This is followed by providing the basic biomechanical principles such as stress-strain relationship of tissues defining mechanical parameters. In turn, this paves the way for the incorporation of appropriate applications such as radiotherapy, surgery and diagnostics.
Professor Adil Al-Mayah is a member of both the engineering school and school of medicine at the University of Waterloo. He has done cutting edge research integrating mechanics into imaging to accurately localize cancer tumors for radiotherapy applications.This technique has been successfully applied to different anatomial systems including lungs, liver, head, neck, breast and prostrate. He has authored over 30 referred papers on this topic. He has received five graduate and research awards accordingly.