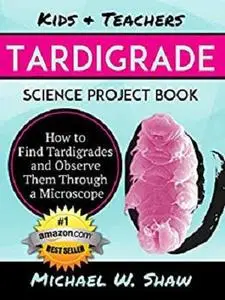 Kids & Teachers TARDIGRADE Science Project Book: How to Find Tardigrades and Observe Them through a Microscope by Michael Shaw
English | September 17, 2012 | ISBN: 1499134983 | 184 pages | AZW3 | 8.55 MB
This book has been a Number One Bestseller on Amazon. For students and teachers wishing to do a science fair project on tardigrades, this book is essential.
With 100 pictures and detailed explanations, this book is written in a style intended to assist students and teachers in a variety of possible science projects with tardigrades.
There are many science hobbyists at all levels who need an additional resource on this topic. Besides information specific to tardigrades, the book provides a basic primer on collecting and viewing specimens of many types under the microscope.
Beginning with some basic information about tardigrades, the book explains the where's and how's of finding these fascinating creatures. Covered are the essential techniques of sample collection, specimen and slide preparation, and the basics of microorganism viewing under a microscope.
How to build science fair models of tardigrade eggs and tardigrades is explained in detail with over 100 step by step color pictures (in Kindle version). The photos in the paperback version are in black & white, so if you buy the paperback, you get the color version in Kindle for $1.99 under the Kindle MatchBook program.
Also included are bonus sections showing how to build a microscope camera adapter, and how to build a plant press for preserving leaves and flowers.
For anyone wishing to embark on a new voyage of scientific discovery, this book will help point the way.
>>> REVIEW HIGHLIGHTS
"This is a fascinating book for anyone, not just teachers & kids. I've been curious about tardigrades ever since I saw a picture of one. They are pretty amazing animals that are as close as you can get to indestructible, withstanding temperatures that would kill most other creatures." - Maureen A. Carr - 5 Star Amazon Review
"The discussion on microscopy is particularly good – especially the section about depth of field, and the comparison of stereo microscopes with compound microscopes. Indeed, even my college students and teachers in professional development classes sometimes have a difficult time grasping these concepts (higher mag is not always "better") Indeed, this book would be very useful for anyone interested in basic microscopy." - Karen Kalumuck - College Professor
"A wonderful guide. Clearly written as well as charming. My granddaughter used the book for an independent research project (2nd grade) and is now using it in her science fair project. Inspiring to budding young scientists." - Rona Ostrow - 5 Star Amazon Review