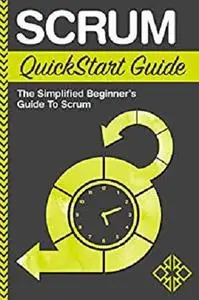 Scrum: QuickStart Guide - The Simplified Beginner's Guide To Scrum (Scrum, Scrum Master, Scrum Agile) by ClydeBank Business
English | October 22, 2014 | ISBN: 1502771403 | 76 pages | AZW3 | 0.66 MB
<h2>Scrum, Made Simple</h2>
At its philosophical core, Scrum is a truly revolutionary approach to project management. With Scrum, traditional roles of authority are deconstructed, as are the traditional linear (part-1, part-2, etc.) approaches to getting things done within a team. Scrum teaches that better results are possible by embracing a more elliptical and fluid framework, one that emphasizes rigorous collaboration, observation, reflection, experimentation, institutionalized feedback loops and a perpetual quest for process improvements—and that's just the beginning.
The Scrum QuickStart Guide from ClydeBank Business offers a beginner-friendly walkthrough of this exciting, innovative, and widely acclaimed approach to project management. Unlike other books on Scrum that come flooded with technical jargon and theoretical discussions, The Scrum QuickStart Guide will provide you with a down-to-earth account of the essentials; a foundation to prepare you for your first hands-on forays into the world of Scrum.
As is true with all titles throughout the ClydeBank Business library, the best-selling Scrum QuickStart Guide treats readers to a gloriously simplified account of the subject matter. Prepare for an introduction to Scrum that's at once robust and friendly to newcomers. Happy learning!
<h2>You'll Learn…</h2>
How Scrum Asserted Itself as a Necessary Offshoot of the Classic Project Management Methodology, Agile
The Roles, Process Components and Progress Metrics of Scrum—What They are and How to Use Them
The Anatomy of "the Sprint" the Primary Building Block of a Scrum-Driven Endeavor
How Scrum Can be Applied Across a Multitude of Different Business Types and Business Sizes
How to Lay the Groundwork for Systematic Feedback and Continual Process Improvements
How Google, ING, and other Organizations Have Leveraged Scrum to Their Benefit
<h2>A Risk-Free Purchase - No Questions Asked Money Back Gurantee</h2>We are so confident that methods outlined in this book will help you understand Scrum that we're willing to let you try the book risk-free. If you are not fully satisfied with the product, simply let us know and we will provide a 100% full refund. That's right, a
100% Money-Back Guarantee!
What reason do you have to not give this book a try?
<h2>Scroll Up To The Top Of The Page And Click The Orange "Buy Now" Icon On The Right Side, Right Now!</h2>
ClydeBank Media LLC
All Rights Reserved