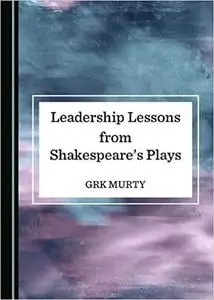 GRK Murty, "Leadership Lessons from Shakespeares Plays"
English | ISBN: 1527537218 | 2019 | 270 pages | PDF | 7 MB
Whatsoever a great man does, the same is done by others as well, says the Bhagavadgt. Shakespeare is one of such great men. He decocted mans cosmic world into his plays, and his characters display greatness along with humility and frailty. His plays, which so lucidly articulate the hidden process of interiority of the protagonists, are a living force even today. The problems that they portray and the consequences that they map are not dissimilar to those that the leaders of todays businesses encounter. Todays leaders are, of course, equipped with better tools to manage these, but they may not be superior to the spiritual depth or moral strength that we experience in these classics. In a refreshing approach, this book delineates theories of leadership and management through the characters and the themes of the Bards plays, contextualizing their infinite variety to the concepts being expounded in todays business environment.