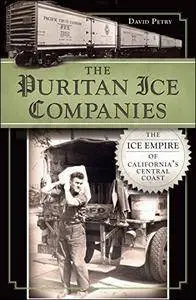 The Puritan Ice Companies: The Ice Empire of California's Central Coast by David Petry
English | November 27, 2012 | ISBN: 1540232840, 1609498771 | EPUB | 194 pages | 3.7 MB
The Puritan Ice Companies operated at Santa Barbara from 1922 to 1986, opening the vegetable markets in the Santa Maria and Lompoc Valleys to wide distribution by pioneering the use of refrigerated railcars. Puritan ran the world's largest poultry plant and, during the World War II homefront era of the 1940s, was pivotal in facilitating Mexican labor in California, expanding vegetable and melon markets at Blythe and providing ice for General Patton's Army Desert Training Center near Indio.
The rise and fall of one company parallels stories of domestic ice use and the impact of ice on the rail business, which declined with interstate refrigerated trucking. Join Santa Barbara historian David Petry as he examines the history of a unique Central Coast corporation's impact on the national scene.