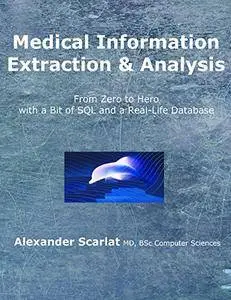 Medical Information Extraction & Analysis: From Zero to Hero with a Bit of SQL and a Real-life Database by Alexander Scarlat
English | March 19, 2018 | ISBN: 1544093373 | PDF | 400 pages | 224 MB
Book introduces clinicians to SQL and using hands on examples on MIMIC - a publicly available, de-identified ICU database from Beth Israel Deaconess Medical Center and MIT Lab for Computational Physiology - it enables care providers to query any database of an Electronic Health Record (EHR) and create meaningful reports to support their quality initiatives.
IT professionals will benefit from a structured analysis of the main parameters that interest clinicians: diagnosis, procedure, lab, meds, imaging reports, nursing assessments and interventions, scoring systems, mortality, length of stay, readmissions' rate, costs, etc.
Using this book, both clinicians and IT professionals can easily retrieve any information from the data in their EHR and discover new clinical insights hidden in their database.