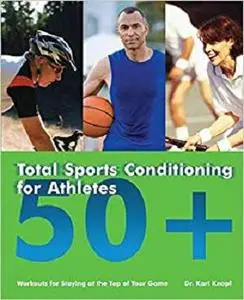 Total Sports Conditioning for Athletes 50+: Workouts for Staying at the Top of Your Game by Karl Knopf
English | May 28, 2008 | ISBN: 1569756473 | 144 pages | MOBI | 4.85 MB
STAY AT THE TOP OF YOUR GAME AT ANY AGE
•
Don't give up
your favorite sport.
•
Don't lose
to younger competitors.
•
Sports conditioning
gives you the winning edge!
With targeted programs for fast and effective off-the-court conditioning, this book provides exercises for maintaining the flexibility, strength and speed you need to stay competitive.
By following the regimen in
Total Sports Conditioning for Athletes 50+
, you'll see results where they matter most―on the playing field. The combination of aerobic, strength, plyometric and functional training in this book is sure to keep your body game-ready and injury-free. You'll discover how small doses of the right exercise allow you to continue enjoying your favorite sports for years.
Total Sports Conditioning for Athletes 50+
includes beginner, intermediate and advanced exercises, over 200 Step-by-Step photos plus more than a dozen sport-specific workouts for:

•Baseball
•Basketball
•Cycling
•Golf
•Hockey
•Rowing
•Running
•Skiing
•Soccer
•Softball
•Swimming
•Tennis