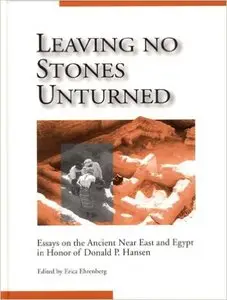 Erica Ehrenberg, "Leaving No Stone Unturned: Essays on the Ancient Near East and Egypt"
English | ISBN: 1575060558 | 2002 | 328 pages | PDF | 11 MB
The breadth of this lovely Festschrift reflects Hansen's wide-ranging scholarly skills. The twenty-five articles cover a wide geographic spread from Egypt to Iran, and a long chronology including the third millennium to the Greco-Roman period.
Specific objects, such as "A Decorated Bronze Belt in the Detroit Institute of Art" (E. Peck), are examined as are more theoretical issues like, "Seeing the Past in the Present: Twenty-Five Years of Ethnoarchaeology at al-Hiba." The volume includes articles about excavations themselves such as P. Harpers, "Tomorrow We Dig! Excerpts from Vaughn E. Crawford's Letters and Newsletters from al-Hiba." The role of a Festschrift is to honor the scholar, and this volume succeeds to the extent that after reading it many may wish they had excavated and studied with Hansen! - Tammi J. Schneider in Religious Studies Review, Vol. 29, No. 1, January 2003
This volume of essays is a tribute to the achievements of the art historian and archaeologist Donald Hansen. - A. R. George in Bulletin SOAS, February 2004
"Hansen seems to have a wide interest and circle of friends: contributions deal with Iranian, Mesopotamian, Greek and Roman and Egyptian archaeology. This reflects Hansen's broad orientation and interests as a scholar of Near Eastern cultures."
"The most striking aspect of the contributions to Hansen's festschrift is the warm and personal memories they introduce their articles with. All remember Hansen as an intriguing, enthusiastic, warm personality and all have fond memories of working together with him on digs and research projects. This becomes especially apparent in Selma al-Radi's account "Digging with Donald" and in Prudence Harper's extracts from Crawford's letters from al-Hiba in "Tomorrow we Dig!" –Kim duistermaat, Damascus in Bibliotheca Orientalis, Jan-April 2005