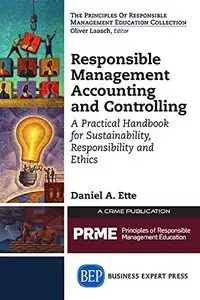 Responsible Management Accounting and Controlling: A Practical Handbook for Sustainability, Responsibility and Ethics by Daniel A. Ette
English | 2014 | ISBN: 1606498223 | 150 pages | PDF | 2,7 MB
Currently accounting and controlling are little involved in responsible business. This book offers a responsible controlling framework and a 12-step roadmap how management accounting and controlling can be adapted to become a change agent towards responsible business. The main issue of this book is to be seen in the fact that controlling and management accounting departments are hardly involved in sustainability, responsibility and ethics (SRE) topics and thus do not contribute to responsible business. The book deals with the conviction that responsible controlling is indispensable to make an entire organization more responsible. The main content of this book is the conceptual development of a Responsible Controlling Framework towards decision-making based on an ethically sound fundamental in order to make a company a responsible business. The conceptual approach helps to ensure the book will appeal practitioners in organizations of all size and nature as well as for (MBA) students. This book recommends a thoroughly examined course of action regarding Responsible Controlling for practitioners based on a profound theoretical background. The book shows the current state of controlling in an organizational context and in which areas controllers are active.