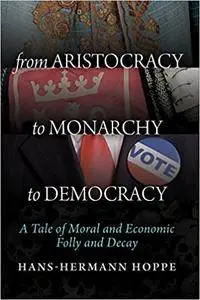 Hans-Hermann Hoppe, "From Aristocracy to Monarchy to Democracy: A Tale of Moral and Economic Folly and Decay"
2014 | pages: 70 | ISBN: 1610165926 | EPUB | 0,4 mb
In this tour de force essay, Hans-Hermann Hoppe turns the standard account of historical governmental progress on its head. While the state is an evil in all its forms, monarchy is, in many ways, far less pernicious than democracy. Hoppe shows the evolution of government away from aristocracy, through monarchy, and toward the corruption and irresponsibility of democracy to have been identical with the growth of the leviathan state. There is hope for liberty, as Hoppe explains, but it lies not in reversing these steps, but rather through secession and decentralization. This pocket-sized, eye-opening pamphlet is ideal for tabling, conferences, or sharing with friends. It can revolutionize the way a reader sees society and the state.
My Link