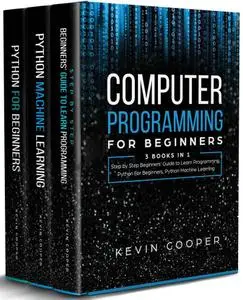 Computer Programming for Beginners: 3 Books in 1: Step by Step Guide to Learn Programming, Python For Beginners, Python Machine Learning
Kevin Cooper | 2019 | ISBN: 1672052661, ASIN: B082LS8LSJ | 480 pages | EPUB, PDF(conv) | 0.6 MB, 3.3 MB
This guide is what you need to learn to program easily and quickly from an expert with over 10+ years' experience. All you need is a bit of patience and planning.
The books cover topics such as:
• The Complete Introduction Guide for Learning the Basics of C, C#, C++, SQL, JAVA, JAVASCRIPT, PHP, and PYTHON
• The concepts of different programming languages
• Variables of the different programming language
• Where the language is applicable in our today world
• What are the things you need to know about artificial intelligence?
• How you can start with machine learning and Why you need to understand the fundamentals; the jars of machine learning and how many they are; what the roadmaps to machine learning are
• What the types of machine learning are, and what their impacts are to amplify various elements of business operations
In addition a book explains Python in detail with the help of detailed coding examples that are usually not available in Python beginner-level books and that will make your journey easier.