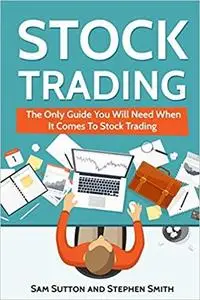 Stock Trading: The Only Guide You Will Need When It Comes To Stock Trading by Sam Sutton
English | April 17, 2018 | ISBN: 1717096166 | 80 pages | AZW3 | 0.22 MB
This book contains Stock Trading 1 and The Predictable Stock Trading System Are you looking for a great book about trading stocks but every single time you purchase a course it seems that nothing makes sense? Are you scared when you hear words like "trendline," "bonds," and "futures"? Then, this is the right book for you! In Stock Trading, you are going to learn everything there is to know about this topic and get insightful tips that will transform your mindset when it comes to money. During this in-depth manual, you are going to learn about fundamental topics such as the following:
• What initial capital is required to start so that you know if you have the right credentials to get started in this amazing world or if it is time to save money before going on the attack
• What big boys do to stay ahead of the competition and get the best deals, making money even when stocks are falling
• What social trading is and how you can benefit from it
• What trading is not and how you can avoid the main mistakes of beginners
• How to time the market correctly and get the most out of your trades
• A lot of hidden information that will boost your education and get you started investing as fast as possible As you can see, this book is full of details and goes very deep on the subject. Prior experience is not required, and the manual was written especially for those who do not know anything about investing. If you have been on the fence for a while and want to take your investing game to the next level, this is the right book for you. Get it now at a special price and act fast; it won't be so cheap forever.