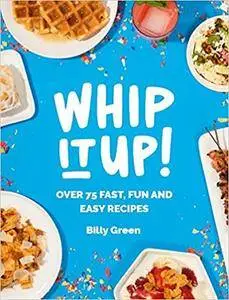 Billy Green, "Whip It Up!: Over 75 Fast, Fun and Easy Recipes"
ISBN: 1784880027 | 2015 | EPUB | 224 pages | 47 MB
In his first book, Billy Green gets readers really, really excited about cooking: Whip it Up! features easy, awesome food that's perfect for all skill levels. Packed with straightforward recipes that don't compromise on flavor or break the bank with fancy ingredients, this is a perfect first-time cookbook, and will also suit more confident cooks who want big results in a hurry.
Try Billy's tasty butternut squash and chorizo shells for a quick dinner; French baguette pizza for an easy film night with friends; or his confetti salad - a colorful meal of choice when the swimsuit season is on the horizon and carbs are the enemy! Whip it Up! also features a delightful batch of sweet and alcoholic recipes: celebrate summer and your waistline with skinny mint and grapefruit sorbet; drown your sorrows with a strawberry and rhubarb vodka; or eat your emotions with baked peanut butter cup donuts and sea salt.
In addition to the food goodness, Whip it Up! is filled with Billy's bright, distinct photos and styling, an edgy graphic design, and sharp writing style.