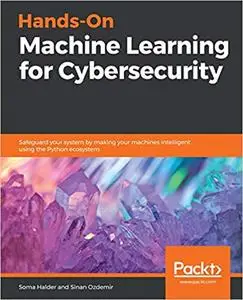 Hands-On Machine Learning for Cybersecurity:
Safeguard your system by making your machines intelligent using the Python ecosystem
by Soma Halder
English | 2018 | ISBN: 1788992288 | 497 Pages | PDF True | 11 MB
The book begins by giving you the basics of ML in cybersecurity using Python and its libraries. You will explore various ML domains (such as time series analysis and ensemble modeling) to get your foundations right. You will implement various examples such as building system to identify malicious URLs, and building a program to detect fraudulent emails and spam. Later, you will learn how to make effective use of K-means algorithm to develop a solution to detect and alert you to any malicious activity in the network. Also learn how to implement biometrics and fingerprint to validate whether the user is a legitimate user or not.