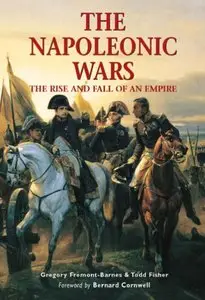 Gregory Fremont-Barnes and Todd Fisher, "The Napoleonic Wars: The Rise and Fall of an Empire"
English | ISBN: 1841768316 | 2004 | 352 pages | PDF | 37 MB
The Napoleonic Wars saw fighting on an unprecedented scale in Europe, Africa and the Americas. It took the wealth of the British Empire, combined with the might of the continental armies, almost two decades to bring down one of the worlds greatest military leaders and the empire that he had created. Napoleon's ultimate defeat was to determine the history of Europe for almost 100 years. From the frozen wastelands of Russia, through the brutal fighting in the Peninsula to the blood-soaked battlefield of Waterloo, this book tells the story of the dramatic rise and fall of the Napoleonic Empire.