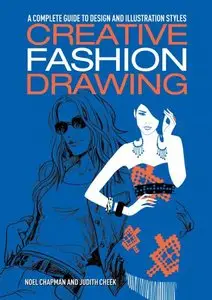 Noel Chapman, "Creative Fashion Drawing: A Complete Guide to Design, Styles and Illustration (Essential Guide to Drawing Series)"
ISBN: 1848584695 | 2012 | EPUB | 160 pages | 89 MB
Fashion is a huge global industry that relies on the talents of fashion illustrators and designers. This book shows how to become one of them, or simply enjoy the creative process of drawing fashion as a pastime. The author explains where to find inspiration and develop design projects, before demonstrating how to draw fashion figures. With sections on templates and poses, fabrics, accessories, and designing outfits, the full range of fashion drawing skills is covered. Fully illustrated throughout, the book contains inspirational examples from a range of practicing fashion designers and illustrators, and step-by-step illustrations showing how to get the best results.