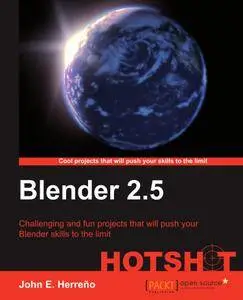 John E. Herreno, "Blender 2.5 HOTSHOT"
English | ISBN: 1849513104 | 2011 | EPUB/MOBI/Code files | 334 pages | 28 MB
Using a projects based approach you will learn fun and challenging aspects of Blender 3D development. With each project you will be able to show off a creation that utilizes Blender 3D maximum potential. If you are already able to perform some basic tasks with Blender 3D and want to go from the simple and boring renders of monkey-headed characters living in box-like scenes to creating more detailed, visually richer, and more polished results then this book is for you. It will give you a good idea of the amount of complexity required for real-world projects and help you in deciding what area you are going to specialize in later on. This book is also useful if you are a user of any other 3D package wanting to get up and running fast with Blender 3D.