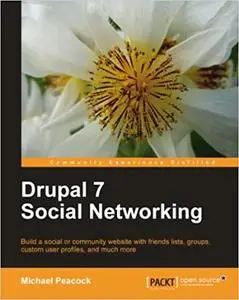 Michael Peacock, "Drupal 7 Social Networking"
English | 2011 | ISBN: 1849516006 | PDF | pages: 328 | 7.0 mb
This book is packed with clear instructions and careful explanations for creating a powerful social networking site using Drupal 7. With each chapter, you add new features and content until your social network is ready to be released to the Internet where it can grow. By the end of this book, you will have a powerful social network which you can either choose to model on the case-study, or create to your own unique design. This book is aimed at anyone looking to create their own social networking website, including: Businesses - building a social network around a product or service can improve your company profile and increase customer loyalty, while an internal social network gives you employees a place to keep resources, discuss ideas, raise concerns, and keep up to date on company policies. Hobbyists - create a community around your hobbies and interests; create a local or distributed user group. Organizations and charities - raise your profile, promote your events, services, and fundraisers, and get help from the community in organizing them. Families - for large families based across the country or across the globe, keep up to date with everyone, and let everyone know what you are up to. You don't need any experience of Drupal or PHP to use this book. If you are a Drupal user you will find this book a great way to rapidly tailor an existing installation into a socially orientated website.