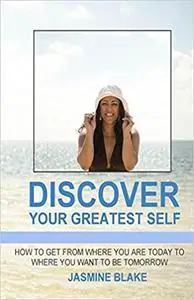 Jasmine Blake, "Discover Your Greatest Self"
English | ISBN: 1943117209 | 2015 | 90 pages | EPUB | 716 KB
The #1 Life Change Workbook! Written by a certified wellness expert, health & fitness specialist, and lifestyle change coach, Jasmine Blake is the world's most honest lifestyle maven. The Discover Your Greatest Self Workbook is your lifestyle change "best friend". Loaded, with tons of resources and assignments, so you can break free of your barriers and learn to live a healthier, stress-free, more purposeful, balanced and organized life in just as little as 90 days. This guide is made to help aid you in the process of changing your life with step-by-step instructions. Each part is designed and formatted where guides, worksheets, and options are presented. The choices we make clearly set us apart from where we want to be. By learning to live a life of happiness, wellness, finding balance and redefining your life's purpose, you'll discover who you are and have a crystal clear idea of where you need to be in your life. "In nutrition and health, changing is a time of discovery, to have a chance to make a difference, that will enable you to find out who you truly are, and to get from where you are today… to where you want to be tomorrow." "My philosophy is simple… choose to discover your greatest self! Whether you're in a struggle, stuck in a rut with your career, surrounded by negative people, can't manage your thoughts clearly, feel misdirected, or just want to better yourself as an individual, this guide is for you. Discover Your Greatest Self is the best lifestyle change improvement book.