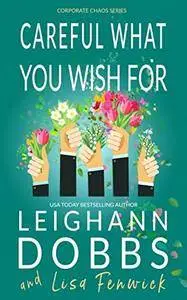 Careful What You Wish For (Corporate Chaos Series) by Leighann Dobbs
English | 7 May 2018 | ISBN: 1981041028 | 220 Pages | EPUB | 177.87 KB
Harper Sullivan has one wish - to catch the person sabotaging O'Rourke Signature Events. She needs to make up for her past actions and she can't stand the thought of anyone hurting her feisty, generous boss Gertie O'Rourke. Lucky thing she has the perfect person to help - her uncle Tanner. He should know how to catch someone hell bent on destruction since he's a master at it himself. When Harper catches the new guy, Logan Carter, doing something suspicious, she thinks she has discovered the culprit.