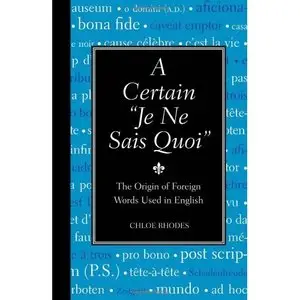 A Certain "Je Ne Sais Quoi": The Origin of Foreign Words Used in English by Chloe Rhodes
English | 4 Mar. 2010 | ISBN: 1606520571 | 167 Pages | PDF/MOBI | 2/2 MB
Organized alphabetically for easy reference, A Certain "Je Ne Sais Quoi" is an accessible lexicon of foreign words and phrases used in English, containing everything from aficionado (Spanish) to zeitgeist (German). Inside you'll find translations, definitions, origins, and a descriptive timeline of each item's evolution.