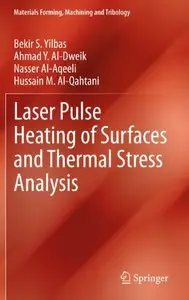 Laser Pulse Heating of Surfaces and Thermal Stress Analysis by Ahmad Y. Al-Dweik
English | 29 July 2013 | ISBN: 3319000853 | 192 Pages | PDF | 5 MB
This book introduces laser pulse heating and thermal stress analysis in materials surface. Analytical temperature treatments and stress developed in the surface region are also explored. The book will help the reader analyze the laser induced stress in the irradiated region and presents solutions for the stress field.