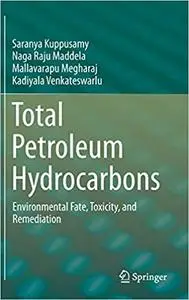 Saranya Kuppusamy, "Total Petroleum Hydrocarbons: Environmental Fate, Toxicity, and Remediation"
English | ISBN: 3030240347 | 2020 | 264 pages | PDF | 6 MB
The term "total petroleum hydrocarbons" (TPHs) is used for any mixture of several hundred hydrocarbons found in crude oil, and they represent the sum of volatile petroleum hydrocarbons and extractable petroleum hydrocarbons. The petrol-range organics include hydrocarbons from C6 to C10, while diesel-range organics are C10-C28 hydrocarbons. Environmental pollution by petroleum hydrocarbons is one of the major global concerns, particularly in oil-yielding countries. In fact, there are more than five million potentially contaminated areas worldwide that represent, in general, a lost economic opportunity and a threat to the health and well-being of humans and the environment. Petroleum-contaminated sites constitute almost one-third of the total sites polluted with chemicals around the globe. The land contamination caused by industrialization was recognized as early as the 1960s, but less than a tenth of potentially contaminated lands have been remediated due to the nature of the contamination, cost, technical impracticability, and insufficient land legislation and enforcement. This book is the first single source that provides comprehensive information on the different aspects of TPHs, such as sources and range of products, methods of analysis, fate and bioavailability, ecological implications including impact on human health, potential approaches for bioremediation such as risk-based remediation, and regulatory assessment procedures for TPH-contaminated sites. As such, it is a valuable resource for researchers, graduate students, technicians in the oil industry and remediation practitioners, as well as policy makers.