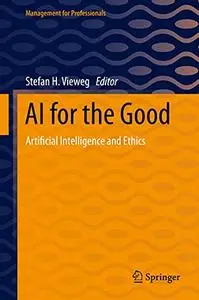 AI for the Good: Artificial Intelligence and Ethics (Management for Professionals)
by Stefan H. Vieweg
English | 2021 | ISBN: 3030669122 | 363 Pages | PDF EPUB | 27 MB
While technology advances at a high pace in the age of machine learning, there is a lack of clear intent and framing of acceptable ethical standards. This book brings together the complex topic of "good" technology in a cross-functional way, alternating between theory and practice.The authors address the ever-expanding discussion on Artificial Intelligence (AI) and ethics by providing an orientation. Pragmatic and recent issues are especially taken into account such as the collateral effects of the COVID19 pandemic. An up-to-date overview of digitization - already a very broad field in itself - is presented along with an analysis of the approaches of AI from an ethical perspective. Furthermore, concrete approaches to consider appropriate ethical principles in AI-based solutions are offered. The book will be appealing to academics, from humanities or business or technical disciplines, as well as practitioners who are looking for an introduction to the topic and an orientation with concrete questions and assistance.