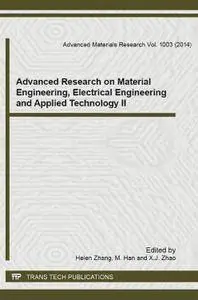 Helen Zhang, M. Han, X. J. Zhao, "Advanced Research on Material Engineering, Electrical Engineering and Applied Technology II"
English | 2014 | ISBN: 3038352152 | PDF | pages: 298 | 17,7 mb
MAEE2014 is a comprehensive conference,and it is an integratedconference concentrating its focus upon Material Engineering, Electrical engineering and Applied Technology. In the proceeding, you can learn much more knowledgeabout Material Engineering, Electrical engineering and Applied Technology of researchers all around the world. The main role of the proceeding is to be used as an exchange pillarfor researchers who are working in the mentioned field. In order to meet high standard of AdvancedMaterial Research ,theorganization committee has made their efforts to do the following things. Firstly, poor quality paper has been refused after reviewing course by anonymous referee experts. Secondly, periodicallyreview meetings have been held around the reviewers about five times for exchanging reviewing suggestions. Finally, the conference organization had several preliminary sessions before the conference. Through efforts of different people and departments, the conference will be successful and fruitful.
My Links

No mirrors please!