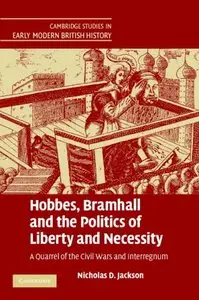 Hobbes, Bramhall and the Politics of Liberty and Necessity: A Quarrel of the Civil Wars and Interregnum by Nicholas D. Jackson
Cambridge University Press | November 5, 2007 | English | ISBN: 0521870062 | 360 pages | PDF | 2 MB
This 2007 book was the first full account of one of the most famous quarrels of the seventeenth century, that between the philosopher Thomas Hobbes (1588-1679) and the Anglican archbishop of Armagh, John Bramhall (1594-1663). This analytical narrative interprets that quarrel within its own immediate and complicated historical circumstances, the Civil Wars (1638-1649) and Interregnum (1649-1660). The personal clash of Hobbes and Bramhall is connected to the broader conflict, disorder, violence, dislocation and exile that characterised those periods.