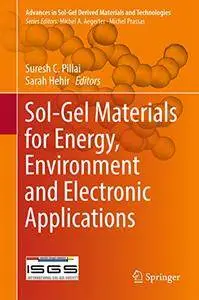 Sol-Gel Materials for Energy, Environment and Electronic Applications (Advances in Sol-Gel Derived Materials and Technologies) 1st ed. 2017 Edition by Suresh C. Pillai
English | 16 Feb. 2017 | ISBN: 3319501429 | 315 Pages | PDF | 12.48 MB
This volume provides expert coverage of the state-of-the-art in sol-gel materials for functional applications in energy, environment and electronics. The use of sol-gel technology has become a hotbed for cutting edge developments in many fields due to the accessibility of advanced materials through low energy processes. The book offers a broad view of this growing research area from basic science through high-level applications with the potential for commercialization and industrial use. Taking an integrated approach, expert chapters present a wide range of topics, from photocatalysts, solar cells and optics, to thin films and materials for energy storage and conversion, demonstrating the combined use of chemistry, physics, materials science and engineering in the search for solutions to some of the most challenging problems of our time.