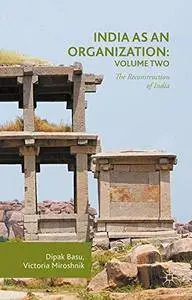 India as an Organization: Volume Two: The Reconstruction of India: 2 by Dipak Basu
English | 5 Sept. 2017 | ISBN: 3319533681 | 187 Pages | PDF | 11.77 MB
This book, the second of two volumes, continues the authors' ground-breaking re-examination of India's history and political economy. This volume describes the economic fortunes of India in the second half of the 20th century. Beginning with the reconstruction of the Planning Commission and India's hybrid model of economic planning, the authors describe the multiple shocks weathered by the system before being replaced with a fully free market model after the collapse of the Soviet Union.
Chapters consider the stresses placed on India's organisation by the shocks of the twentieth century, from its experiments with a socialist economy to its embrace of the Washington consensus in the 1980s. The impact of the invasion of China in 1962 and India's struggle to find its feet post-partition are also given detailed analysis. The book's unique perspective helps to shed light, for the first time, on how India's organisational structure negotiated the country's immense historical and cultural inheritance with the stresses of a twentieth century nation state.