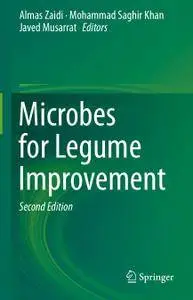 Microbes for Legume Improvement, Second Edition By Almas Zaidi, Mohammad Saghir Khan, Javed Musarrat
English | PDF | 2017 | 417 Pages | ISBN : 3319591738 | 7.26 MB
This book presents in-depth insights into strategies involving plant growth-promoting rhizobacteria (PGPR), including symbiotic/asymbiotic nitrogen fixers and associative/endophyte bacteria, phosphate-solubilizing microbes, as well as arbuscular mycorrhizal fungi and their active biomolecules in legume production.
It also examines the latest research findings on the taxonomic status of rhizobia and signal molecules affecting rhizobia-legume symbiosis to improve readers' understanding of the cultivation of legumes in conventional and derelict soil. The agronomically important microflora broadly discussed have offered solutions to some of the problems associated with expensive fertilizers used in many production systems. This second edition provides an overview of metal toxicity to legumes and presents strategies for the abatement of metal toxicity to legumes.
Aimed at professionals, practitioners, researchers and graduate students in microbiology, crop sciences,
soil microbiology, biotechnology and environmental microbiology, the book focuses on the basic concepts and practical aspects of useful soil microbiota in legume production.