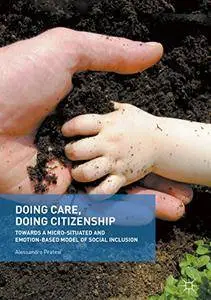 Doing Care, Doing Citizenship: Towards a Micro-Situated and Emotion-Based Model of Social Inclusion by Alessandro Pratesi
English | 3 Jan. 2018 | ISBN: 331963108X | 362 Pages | PDF | 2.69 MB
This book examines the emotional, micro-situated dynamics of status inclusion/exclusion that people produce while caring for others by focusing, in particular, on non-conventional families. Grounded in empirical research that involves different types of care and family contexts, the book situates care within more inclusive and critical approaches while shedding light on its multiple and often overlooked meanings and implications.
Engaging and accompanied by a useful methodological appendix, Doing Care, Doing Citizenship is essential reading for students and academics of sociology, psychology, social work and social theory. It will also be of interest to practitioners interested in developing their understanding of the relationship between care, emotions, social inclusion and citizenship.