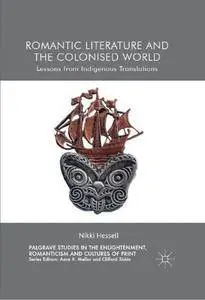 Romantic Literature and the Colonised World: Lessons from Indigenous Translations (Palgrave Studies in the Enlightenment, Romanticism and Cultures of Print) by Nikki Hessell
English | 23 Mar. 2018 | ISBN: 3319709321 | 269 Pages | PDF | 2.34 MB
This book considers indigenous-language translations of Romantic texts in the British colonies. It argues that these translations uncover a latent discourse around colonisation in the original English texts. Focusing on poems by William Wordsworth, John Keats, Felicia Hemans, and Robert Burns, and on Walter Scott's Ivanhoe, it provides the first scholarly insight into the reception of major Romantic authors in indigenous languages, and makes a major contribution to the study of global Romanticism and its colonial heritage. The book demonstrates the ways in which colonial controversies around prayer, song, hospitality, naming, mapping, architecture, and medicine are drawn out by translators to make connections between Romantic literature, its preoccupations, and debates in the nineteenth- and early twentieth-century colonial worlds.