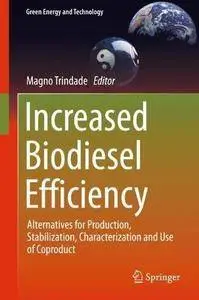 Increased Biodiesel Efficiency: Alternatives for Production, Stabilization, Characterization and Use of Coproduct (Green Energy and Technology) by Magno Trindade
English | 28 Feb. 2018 | ISBN: 3319735519 | 200 Pages | PDF(rep)/EPUB | 5.62 MB
This book advances the use of biodiesel―more environmentally friendly than traditional fossil fuels―by showing how it can be synthesized at a lower cost, with greater efficiency and as a more pure and stable product. It presents methods based on fluorescence spectroscopy, which are less time-consuming than the traditional Rancimat analysis for monitoring stability, and are therefore less prone to allowing oxidative decay in the biofuel. Biodiesel exploits a variety of raw materials, from freshly harvested cottonseed to recycled cooking oil. These are cheap to produce and generate fuel lower in polluting sulphur and aromatic compounds than its petroleum-based equivalent.